Training from the experts!
At wise we feel that good driver training is essential. That is why we provide the same engineers who design, build, test and erect your hoist to train you on how to use it.


We only use our most experienced and professional engineers for driver training to make sure that you and your employees get the best training available.



Training Courses designed around your needs
We offer two types of training depending on the hoist operators level of expertise:

Our full training course is designed for new and inexperienced operators. it includes all aspects of your hoist including general information on how the hoist works, how to safely and correctly operate the hoist and general maintenance tasks. We can also provide more detailed maintenance training to on site engineers or persons responsible for upkeep.


We also offer refresher courses to ensure safe operation continues over time. these courses are designed for more experienced operators who either have not had training for some time or have had a long period of inactivity. Our refresher courses are tailored to the operators requirements.


We recommend that our courses are undertaken in groups of no more than 5 for a better learning experience. This helps to ensure full concentration of trainees and each trainee can have more time and attention from the instructor.
For more information please contact us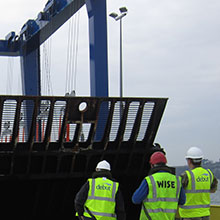 Training Services Available:
✓ Full Training - for new or inexperienced operators
✓ refresher courses - for more experienced operators