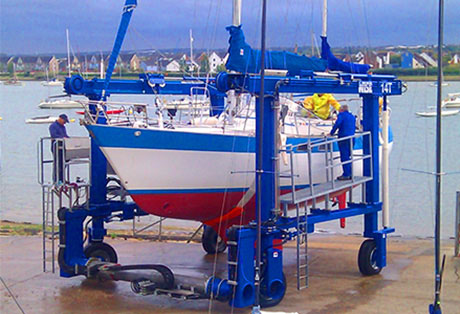 Slipway Hoists

The self powered slipway hoist is designed specifically for use on steep slipway gradients. It boasts a variable width frame to accommodate various shape and sized boats. The variable frame also allows boats to be parked closer together, potentially increasing the available space in a boatyard.
Slipway Recovery And Boat Parking In One


The slipway hoist is designed to lift, transport and park boats in a boatyard and is ideal for medium and large marinas and harbours. It is designed to handle various motor cruisers and keel vessels but can handle many other boats.
The slipway hoist features high mounted engine canopy, drivers stand and winches to prevent corrosion and a high mounted walkway to facilitate sling positioning and lifting. High torque drive motors allow the machine to travel up steep slipway gradients aided by high traction tyres.




With slipway hoists in locations across the globe, Wise has built a reputation for supplying quality, durable machines through meeting or exceeding stringent UK and European standards.