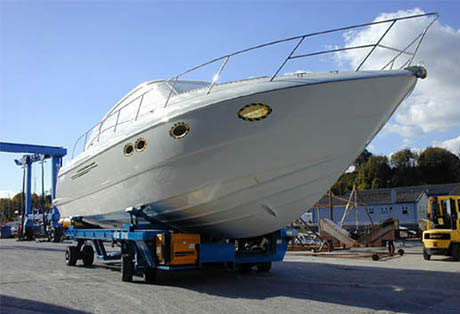 Boat Transporters

Wise boat transporters have been designed to improve the way boats are transported in boatyards.

Through its design the transporter is ideal for parking boats in close vicinity and in confined spaces. This can allow more boats to be parked in a boatyard compared to hoists or trailers

Using a transporter in conjunction with a hoist will not only improve on space but will save time allowing for more lifts to be performed. The Transporters include two systems for lifting and transporting boats:

Adjustable props for direct lifting
Swivel forks for cradle lifting
This flexibility means a wide range of different shape and sized boats can be lifted by one machine.

Along with our standard diesel powered transporter Wise offer Silent-pac, electric and towed models to suit any environment.

We provide wireless remote control as standard with all our powered transporters giving the operator increased vision and accuracy.

Our transporters can be fully customised to suit your needs.